This article will provide you with all the necessary information about the acoustic guitar Cordoba Mini II MH. If you are interested in buying the Cordoba Mini II MH or you just want to know more about the guitar, you should keep on reading.
The Mini II MH is a new addition to the family. It is a travel-size acoustic guitar, but slightly bigger and with an extended 580 mm (22 ⅞") scale length, so it tunes perfectly to Standard E. Despite its small profile, the Mini II has a deeper body depth which makes Mini II's voice a well-rounded tone that is close to a full-size nylon string guitar. Built with all-mahogany woods, the Mini II's unique voice is mellow, soft, and balanced.
Price
The prices can vary depending on the website you are buying it from, but the Mini II mainly it stays between 140 and 250 euros.  You can find the latest prices for Mini II FMH here!
Clear, complex tone
Neck shape improves playing comfort
Travel size with full-size playability
Sounds close to electric guitar
Requires bracing due to head heavy design and no strap
Tuning takes fiddling
Standard E tuning requires different strings
The Small-bodied acoustic guitars are quite fashionable these days, and the Mini II, a new instrument by Cordoba, is a nice example of a miniature nylon string that's easy to play—and easy on the wallet. Short scale instruments sound is definitely really special and this is also the case with the Mini II.
For those wanting to get into string acoustic classical guitars but have been put off by the playability, the Cordoba Mini II is a worthwhile and accessible classical guitar instrument to get into.
In-Depth Review of the above articles
Without a doubt, from its build and features and actual user comments, the Cordoba Mini II fulfills the travel needs capably. Mini II is lighter and smaller than a full-size nylon string guitar and has the scale length of a half-size guitar like Cordoba's own C1M 1/2 (580 mm or 22 7/8"). It also features a narrow nut width at 1 7/8" (48 mm), making this string acoustic easier to play.
The scale length size is travel friendly
It's easy to carry along, strum, and play for acoustic/electric players
It's a great practice guitar for classical guitarists on the move
It's an ideal beginner guitar
Strings are perfect for beginners
Good tone right out of the box
The Cordoba Mini II acoustic guitar has a satin polyurethane finish, which provides a sleek and attractive look. You'll find that there is layered mahogany on the sides, back, and solid spruce top offered with this guitar. The use of mahogany and solid spruce provides this small instrument with a boosted mellow sound tone. There is also a plain mahogany version that Cordoba offers.
Cordoba Music Group ("CMG") warrants Córdoba guitars and Cordoba 30 Series musical instruments to be free from defects in materials and workmanship for three (3) years from the original purchase date, except that pickups, switches, jacks, controls, all other electronic components, tuning machines, hardware, pickguards, plated surfaces, cases, and case hardware are warranted for a period of one (1) year from the date of original purchase.
This half-size acoustic guitar is a great option to go with if you're looking to introduce your child to nylon strings. Nylon strings are comfortable and easy for beginning musicians to play and learn on.
Beginning musicians will find that the neck on this half-size guitar has a c profile, which means that it's both comfortable and easy for small hands to begin playing the strings.
If you're an experienced musician, you'll notice that this half-size guitar has a warm and full tone that the guitar produces. The action is also great for pulling it right out of the box, so you shouldn't have to worry about fiddling with it if you're looking to pull it out and play.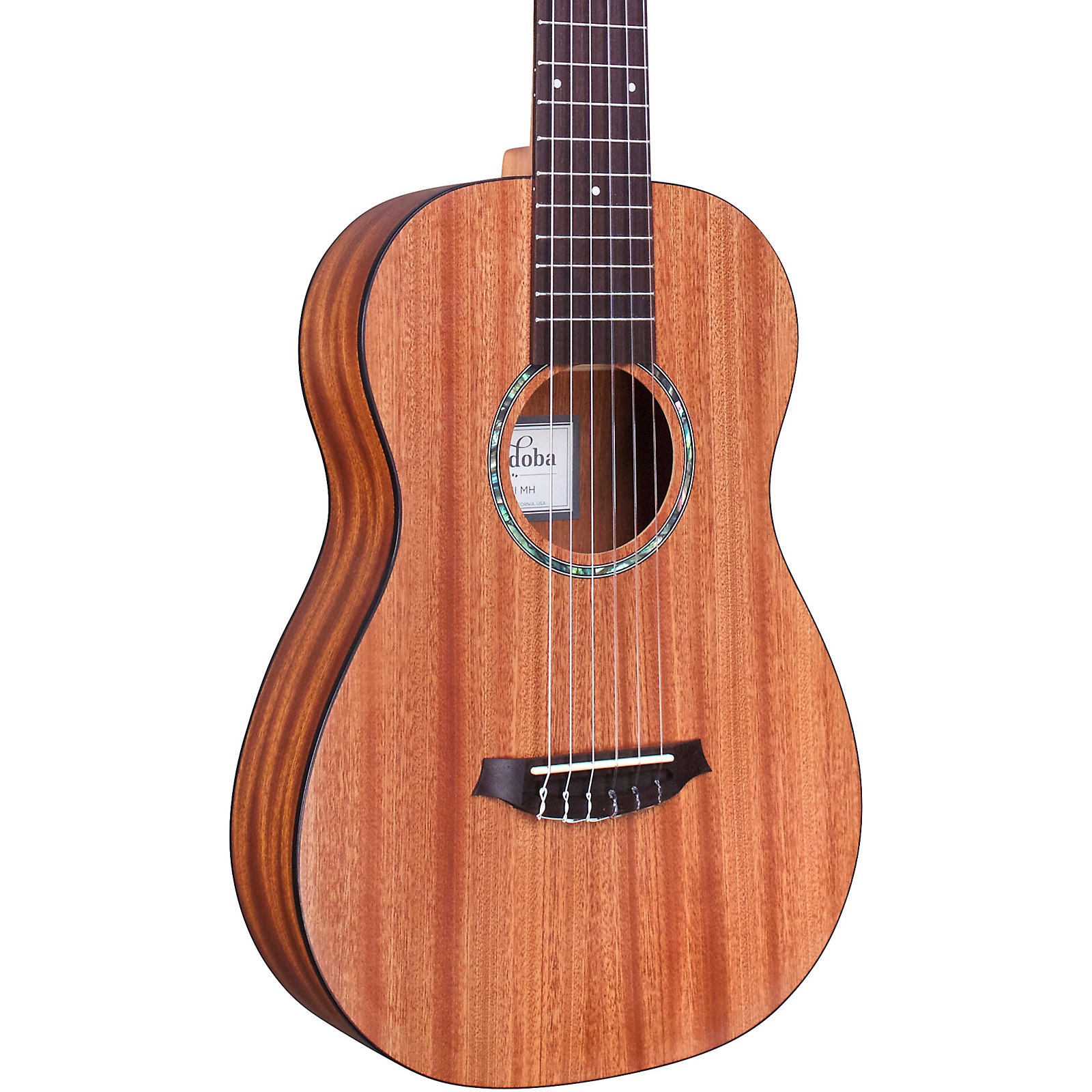 You can find some feedback about Cordoba Mini II on Amazon, Sweetwater, and Thomann. Overall the Cordoba Mini II MH has been rated on average 4.5 out of 5 stars on Amazon Review. Click here to see the cheapest deals right now.
Amazon Reviews #1 – "When considering this guitar, it's important to take two things into account. 1) this is a half-size guitar, and 2) it is built to a specific price point. Those things considered, it is a very good value and a good sounding LITTLE guitar. It's small and very light, so it's easy to take places. It's about halfway between the size of a baritone uke and a full-sized classical guitar. Since it is a short-scale guitar and tuned to standard tuning, the strings carry less tension and it's just not as powerful (unplugged) as a full-size guitar. You may also notice that the lower tension makes the strings feel softer, and may or may not like that. For a short-scale guitar with a small body, I think the guitar sounds great and has good harmonics and a sensitive feel to it. I especially like it for fingerstyle and classical. However, this string acoustic is built to a price point, and the finish on mine had some flaws. Action is good, about 3.5 mm at 12th fret with plenty of saddles available to lower it if you wanted. Intonation is spot on. I would say they focused more on getting the sound and playability right and compromised a little on the finish in order to be able to offer it at a lower price."
Amazon Reviews #2 – "I bought this string acoustic half-size size guitar used for $110 bucks and I'm so glad I did. The action is perfect. It has amazing sustain and a lovely reverb for such a small body. Notice that the 12th fret is very far up, and the 14th fret meets the body instead. This allows you to play the higher notes with ease even tho it's not a cutaway. This is a nylon string guitar so it sounds amazing! Also, I can't emphasize enough that It feels very close to an electric guitar like a PRS…. so it has a nice fusion quality to the action. Some metal frets are a bit sharp on the edges, so I'll eventually get to filing them down. However, for the price… this is an amazing instrument that I'm really looking forward to traveling with! I can't wait to take this to the beach!"
Amazon Reviews #3 – Not as small as a Uke but still pretty small. As for the build it is well made with a good sound, especially for a small body instrument. The guitar is built/shaped like a standard steel string acoustic with a full width or very close to a full width neck, and a small body. The guitar has nylon strings like a classical and sounds like a classical but that is where the similarities with a Spanish/ classical guitar end. I bought the regular mahogany model and yes it's worth the price. Also just as an aside, if you're thinking about putting steel strings on this guitar don't, this guitar is made for nylon strings, steel strings have a much higher tension and can damage the instrument or pull the bridge off.
Youtube Review – "I have looked and looked for a very small practice guitar. I had decided I would like a nylon string for quieter fingerstyle practice while watching tv. I thought about the mini m but didn't want to get away from standard tuning. Thanks to your review I just ordered this."
Cordoba has delivered a travel guitar that any classical guitarist would be happy to take on the road. The mini II has elegant looks, a robust build, and very good playability, you would be forgiven for forgetting that the MH comes in at under $200. With such value, this acoustic guitar is surely set to become a modern classic!
If you like this article and found the provided information useful, you might want to check out our other reviews at AalbergAudio.com